Truck Camper Remodel
Arctic Fox 990 with dry bath.
We finished the remodel on the 2002 Arctic Fox 990, just in time for the big COVID-19 pandemic and stock market drop. Ugh! About halfway through the remodel, we decided to sell this cute camper because we found one locally that's a little bigger and newer. I have a feeling that the dinette in our newer Lance with be replaced with a couch because I LOVE how roomy the couch is and how much more storage you seem to get with it. Added bonus: Minnie loves cuddling with us on the couch too and she has a great view when we have to leave her inside.

Anyway, read on to see how it turned out!!
We used Glidden Gripper primer and then painted the interior with high-quality Sherwin Williams paints: White walls (untinted satin "extra white" enamel latex) and Serious Gray for the cabinets and steps (basically any visible surface that was brown went to gray).

We put in a self-stick faux tile backsplash and it turned out so nice! You can find it here: Art3d Peel and Stick Wall Tile.

Curtains are from WalMart. You can get them here: Eclipse Samara Blackout Energy-Efficient Thermal Curtain Panel. They are used to cover the rear window and the door to block heat (or cold) and light. We also put Reflectix in the windows under the pleated shades if it's hot or if we want to sleep in a little bit in the morning…as if Minnie would allow THAT!
We took out the faded blue carpet and installed new Traffic Master Grey Distressed vinyl plank flooring from Home Depot. It's so much easier to care for when you're out with dogs. Just sweep and go! No vacuuming required!
The couch is a futon. You can buy it on Amazon here: DHP Emily Futon or at Walmart here: DHP Emily Futon. We didn't install the legs, removed all the unnecessary hardware from the base, and used some odds and ends from Home Depot and WalMart to install it so it would slide out to be used as a bed or lounger and not move otherwise. We used some plastic cutting boards from WalMart and this bullnose tile edging trim from Home Depot to use as our slide guides and it works perfectly!
I really love the clean lines from removing the valances above the pleated shades and we were able to add a great shelf behind the couch. The walls are ready for decoration!
We removed the bathroom door and enlarged the opening. We are both tall and broad-shouldered. We could hardly use the bathroom at all. Removing the wall next to the toilet and installing a "flexible" door system (panels from Ikea) made this room much more functional and less claustrophobic. Let's face it, there's no privacy in a truck camper no matter what. The solid sliding door did nothing to reduce noises or smells and the panels don't either. We usually use the time that the other is using the "facilities" to take Minnie for a walk. If you're looking at truck campers (or any RV), then you're probably pretty comfortable with your travel companion.
I made a padded headboard using one of the WalMart curtains, a piece of plywood and some padding. It was nailed in place and covers the window. We blocked the window because it was either really hot or really cold and too much light. We covered the glass with vinyl on the inside and out to help block the light and protect the glass. It was super-easy to apply and looks great. We bought this one from Amazon: VViViD XPO Matte Gun Metal 5ft x 1ft Vinyl Wrap Roll with Air Release Technology

Our mattress also came from Amazon. It came wrapped in heavy plastic and stuffed in a tiny box. Wrangling it around was interesting. Somehow I ended up on the wrong end and had to scoot out underneath! It's really comfortable and I ALMOST switched it for the one in our new Lance. You can get one just like it here: Best Price Mattress. I imagine I'll be ordering a new one soon too!

The bedding is from WalMart. Hey, there seems to be a theme here! We live in a small town with limited options. My hubby would say that Amazon and WalMart are my best friends. Ha!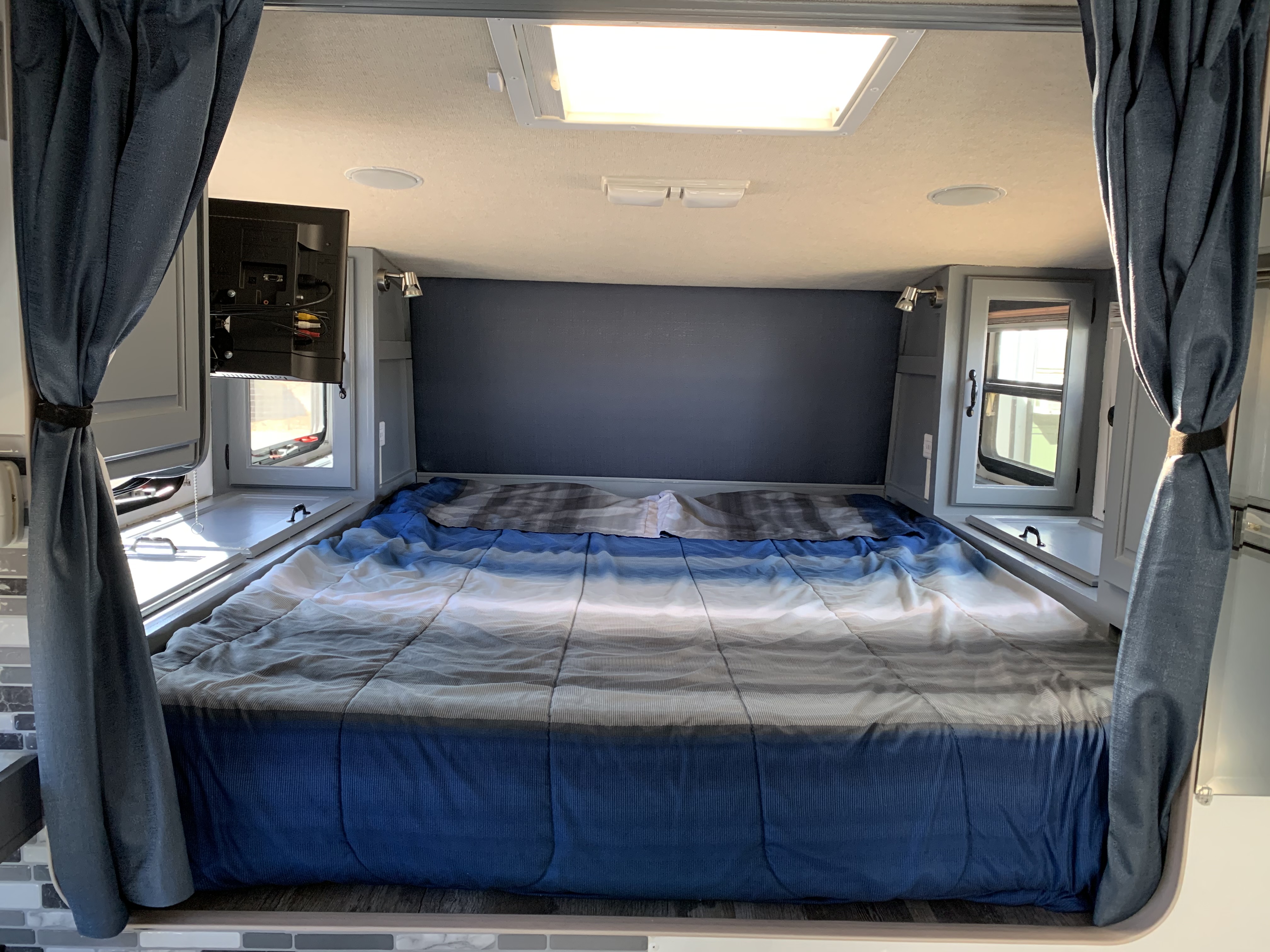 I need a new project now. Who knows what we'll do next! Hopefully there will be a TRAVEL adventure soon. Fingers crossed that the COVID-19 crisis ends soon and we can hit the road and somebody can take this beautifully remodeled camper out too!



Some links may be affiliate links. I may earn from qualifying purchases at no additional cost to you.
Minnie's Mommy is a participant in the Amazon Services LLC Associates Program, an affiliate advertising program designed to provide a means for sites to earn advertising fees by advertising and linking to Amazon.com.

Minnie's Mommy is a participant in the Wal-Mart.com USA, LLC Affiliate Marketing Program, an affiliate advertising program designed to provide a means for sites to earn advertising fees by advertising and linking to walmart.com.