I guess the first place to start would be a bit about me, my recent history, and why this blog is called Minnie's Mommy. My name is Gerri and my husband, Kevin, and I are the proud parents of a German Shorthaired Pointer named Minnie. Most of what we do revolves around her now that our 4 human kids are all grown up. We enjoy traveling, but that means leaving Minnie with sitters (my parents), taking her to the kennel, or finding a way to take her with us.

We got Minnie in September of 2014, when she was just two months old…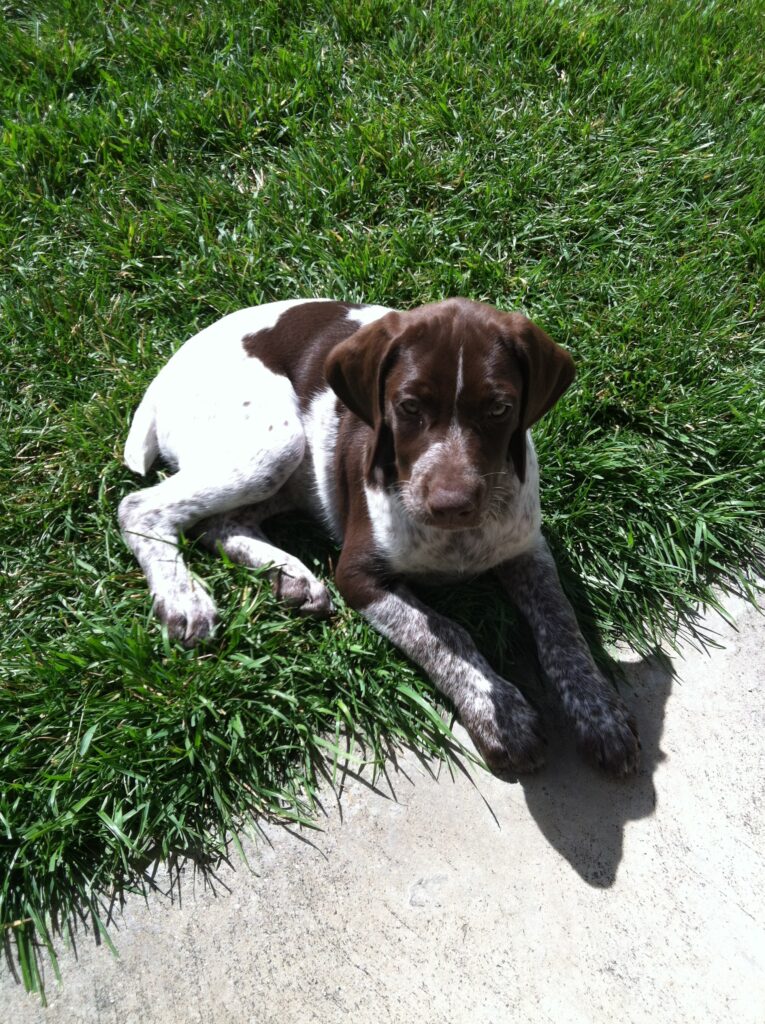 At the time, I was working as a dog groomer part time and my husband was still working full time (he retired in 2018). We quickly realized that Minnie couldn't be left alone outside in our kennel like we had done with our labs. She just got into too much trouble. So we just started taking her everywhere with us if we could.

Fast forward to August of 2016. A routine mammogram turned into an ultrasound, then a biopsy and a diagnosis of breast cancer at the age of 44. Genetic testing showed that I have a mutation in the BRCA1 gene. I was fortunate that I was able to quit my grooming job to fight cancer. I have no idea how people are able to continue to work full time and endure months of chemotherapy and surgeries. I continued to work part time doing janitorial work, but my husband had to cover for me frequently. Kevin took excellent care of me and Minnie stuck by my side like Velcro throughout the ordeal. I'm happy to report that I'm currently cancer-free and working toward a healthy weight with the "keto" diet. My diagnosis of TNBC came with the news that recurrence is more likely than other types, but only within the first 5 years. So we decided that we could afford for me to take those 5 years off work. Well, that hasn't happened (yet), but I think it's going to happen soon.

After I finished cancer treatments and surgeries, we decided we needed an easier way to take Minnie with us, so we bought an old Arctic Fox 990 truck camper. We didn't realize we were buying something with a host of problems, so have spent a lot of time working on it and making it "ours".

This blog will likely be geared toward travel, both domestic in our camper as well as internationally, some truck camper repairs, and a bit of food and home stuff thrown in. Who knows?

I'm an Amazon Affiliate. If you click a product link I may receive a small commission at no cost to you. It helps to keep my health insurance active. Thank you!